O'Brien Paving Inc. can create a custom and timeless concrete patio, pool surrounding, or front driveway and porch, or produce the tirelessly functional and strong cement pad for the heaviest of commercial or industrial uses. We use the best engineering practices in everything we do, ensuring durability.
Our concrete services are available on their own or in combination with our paving or landscaping. When getting a new asphalt driveway, you can benefit from our diverse service offerings and make the front of your home or business more beautiful and functional with curbs or a walkway.
Any of our concrete creations can be finished in any style you desire. We're experts and are the right choice for all your concrete projects, below is a brief description of the most often requested concrete finishes we offer, but if you have any questions and would like a free estimate and consultation please don't hesitate to contact us.

Broom Finished Concrete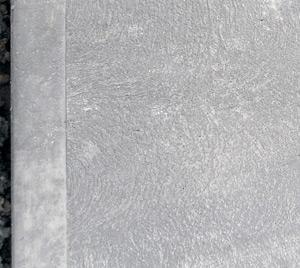 The standard concrete finish and the most utitilitarian. Not to say it can't look amazing, designed shaping, custom edging, and fancy broom or trowel finish can really spruce up the look of your driveway, curbs, and walkway, while maintaining the low maintenance durability of regular broom finish concrete. While the default colour for broom finished cement is white, colour can be added to suit.
Stamped Concrete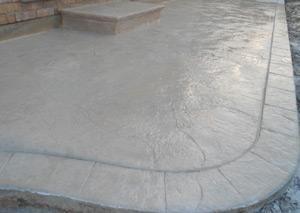 Stamped concrete is when a texture is imprinted on the surface of poured concrete. The patern can be made to look much like natural slate, or interlocking bricks, but because it is poured concrete the job can be done at a fraction the cost of natural stone, and with the exceptional strength and durability of concrete. Stamped concrete can be coloured with a beautiful marbled texture, or to match the desired colour palette to suit your home or business.

Exposed Aggregate Concrete
With exposed aggregate concrete the surface of the project is treated in such away to bring the natural pea stones in the concrete to the surface so they can create there own texture. This beautiful finish allows for the natural look and colours of the stone while maintaining the strength and durability of concrete. The cement in the exposed aggregate can also be coloured allowing you to fuse your desired palette with the stone.