Asphalt Paving
At O'Brien Paving Inc, we have been providing the best quality asphalt paving services and the best value for every dollar in Kitchener-Waterloo since 1979. Other companies may claim to offer the same level of quality as O'Brien Paving, but they don't back it up with our great guarantee, and they can't show you 15-20 year old driveways or parking lots which are still in near perfect condition.
If you need asphalt work done, please Contact Us for a free consultation and estimate, and you'll see the difference right from the start. (E-Mail: Contact Us | Phone: (519)893-2614)

Driveways, Laneways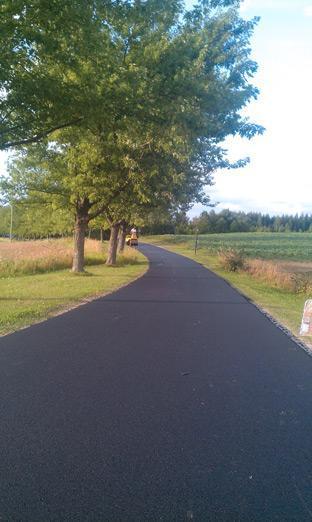 Asphalt driveways are still the first choice of most home owners, thanks to O'Brien Paving Inc's superior engineering practices, our driveways will often last for decades. We handle everything in-house from quoting to completion, including:
Resurface with a top coat of new asphalt (also called recapping).
Pave over a pre-installed gravel base.
Completely rip-out and remove old asphalt or other paving material, fix any problems with the base and re-pave.
Excavate anything else like a lawn, install a new base, and pave.
Or add an extension on to an existing driveway.
We also offer a full array of complementary services such as, concrete curbs, sidewalks, or landscaping! Saving you time and money by not having to work with numerous contractors for your outdoor project, and giving you peace of mind knowing you are getting a reputable company that has provided quality services in the Kitchener, Waterloo, and Cambridge area since 1979.
We simply provide the best value for every dollar you invest on the outside of your home or business.

Parking Lots, Roadways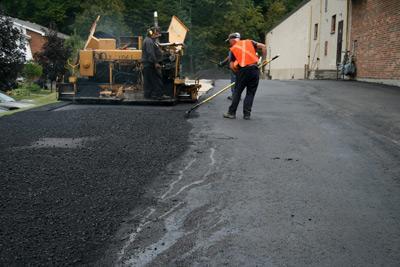 Larger construction projects require durability and hassle-free care, and asphalt laid by O'Brien Paving Inc. can provide decades of worry free service, at an economical price. We will work with you to provide the best solution for your needs. We have the experience and reputation so you can be sure that O'Brien Paving Inc. will provide you with the utmost in quality and value.
Just as with our residential clients our full array of complementary services including site-works, concrete, and landscaping, save you time and money streamlining your project
We have the best reputation in the Kitchener, Waterloo, and Cambridge area for a reason!

Maintenance
Asphalt Patches, Sealing, Crack Filling, Line Marking
If you are interested in our maintenance services, please visit our maintenance section